For The Actor Studio - Kudos
Get Tape For Your Demo Reel
all classes are recorded and edited demos are available.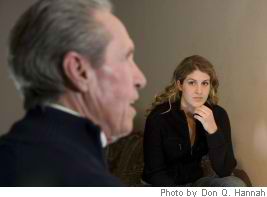 LA Film Acting Class & Coaching Testimonials
"For the Actor is a creative space that feels intimate, supportive and playful. Julia and Peter work in a wonderful teaching partnership to bring the best out of their students as they lead them to deeper connections in their work"
"I learned about camera angles, breaking down scripts, and how to use my vulnerability and "weirdness" in a totally different way. Now when I audition, I feel like I'm a step ahead of the competition."
Loved studying with Peter and Julia. They keep you in the moment, honing your acting skills and intuition instead of just typical scene study. Great on-camera practice.
Peter stimulates and nurtures who we are as artists while honoring who we are as human beings.
Peter is a fantastic coach. He has a gift for stripping away all the nonsense to get you to communicate real honest emotion. I'm consistently surprised at the level of emotion achieved during a single class exercise. This is due to Peter's extraordinary talents as an actor and instincts as a coach. He creates a safe and supportive environment for you to learn. His constant encouragement to 'play' makes the class so much fun, and reminds me why I wanted to be an actor in the first place.
The thing that amazes me about Peter's class is that the first take of a cold reading is worthy of a professional shoot. The quality of work speaks for itself.
With Peter I have learned to fully express my truth. And I now love cold reading! I feel I have an advantage at auditions, because I can pick up a script, read it twice, and have the confidence to be committed to the given circumstances.
It is no exaggeration to say that Peter is one of the best acting coaches in town.
By participating in Peter's acting class, I expected to become more knowledgeable about the art of acting and performing. His passion and enthusiasm both in the process, and his subjects, is infectious. But what I didn't expect was the gradual understanding, and conquering, of my fears, and learning how to use them not only on stage, but also in life.
Peter provides me a safe place to exercise my craft and, at the same time, challenges me to push past my creative comfort zones.
Peter Looney has been my acting coach and friend for over 20 years. With a background in techniques from both Sanford Meisner and Charles Conrad, he is constantly evolving by incorporating other learned experiences to further support each student's growth in acting for film. Peter always uses positive reinforcement as a coaching tool for all levels of acting students. I have never heard him say something was an 'incorrect' choice. Rather, he will suggest, 'Let's try it this way.' As opposed to an acting class (teaching 'how to do it'), this is a workshop where all levels of actors can work together and exercise. I have found his workshop to be a great way to experiment and to keep the acting chops honed. It's not about doing a scene the way it should be done, but rather using a scene solely as a tool in which to really connect with one's acting partner. Your scene partner's soul is in his/her eyes, not off to the side in your mind.
Peter is a kind man and a marvelous teacher. Not only is he is knowledgeable about acting, he is always very supportive and encouraging and willing to talk. I will always be thankful for what I learned from taking his classes.
"In Julia and Peter's class I learned the intricate details of working on camera and how to make sure the audience can see directly into the characters soul."
Dear Peter, I just wanted to thank you for the help you gave me when I first moved to Los Angeles. Your class and your recommendations really helped me get familiar with this city and this industry.
I am now a regular on General Hospital, first the Night Shift, and now Day Time, and I have a small role in the new Harrison Ford movie, "Crossing Over". All this is happening because I had a good start.
Thank you for that! Wishing you nothing but the best!
Thankfully Yours,
Best class I have taken! I love the feedback and generosity given in class. This is definitely a class that I will continue to go to throughout my career.
As an acting teacher, Peter has given me the confidence to approach and interpret any given script. Peter's patience insight, and confidence in his students, has enabled me to grow not only as an actor but as an individual. The students in his class share a great camaraderie towards each other as well as a dedication to their craft.
Peter will have you telling your truth every time you work. You'll learn to trust 'not knowing,' allowing every moment to affect you. He translates the mechanics of acting into truthful experience, and he is able to relate to actors with thoughtfulness, careful direction, and clarity. In every sense, Peter conducts an actor's Master Class.
Peter is terrific. Inspiring, affirming, positive, great eye, terrific training with Meisner and Conrad legacies that he brings to his students.
I love working with Peter because he is so incredibly passionate and committed to the work. He creates a unique environment where it is safe to honestly explore the depths of your own talent and psyche. I highly recommend this class to everyone, even if you are not an actor. This is the place to explore knowing thyself.
Studying with Peter Looney has been an invaluable experience. He emphasizes the importance of listening, being in the moment, and allowing the possibilities of every scene. Peter has also encouraged me to use my voice and never doubt my instincts. Thank you, Peter.
Peter's work teaching me, bringing out my potential, has given me both a sense of accomplishment and the ability to audition without nerves. In short, he is with me in spirit every time I go to read for a part.
Peter Looney's teaching is truly from the heart. He is very spiritual, creative, and sentient regarding the art form of acting.
Peter Looney is one of the greatest living artists in the business. Having been taught by Sanford Meisner, Peter knows a lot about acting, and more importantly, a lot about truth. His deep concentration and hard-focused energy allow him to cut right to the point and share his insights into film and theatre acting.
Incredible class! Julia and Peter are both insightful and inspiring teachers. It's my favorite night of the week
Film Industry Testimonials
Peter Looney coached me when I was an actor; as a producer/director, I have used him, and some of his students, in my films. His methods get quick results, and they turn out the most organic and spontaneous of performances. Peter is a wonderful, passionate teacher with incredible insight. He challenges his students like few coaches dare.
Peter Looney's classes are filled with passion, and he treats each student with a level of dignity and kindness that makes them feel safe enough to take risks with their work. His classes are great for both novice and seasoned actors, and he makes Meisner's stage training far more useful when applied to the hectic, fast-paced worlds of film and television.
It is my honor to endorse Mr. Peter Looney. He has opened doors emotionally and creatively to all actors that I have referred to him. He has an ability to establish a natural process of coaching which allows the actor to free their mind and assume the role given to them. An accomplished actor and director, Peter encompasses strength and power, yet embraces the courage to be vulnerable. I have witnessed this brilliance firsthand.
Peter has taught me several things in my career. Through his example and mentorship the biggest lesson that I have learned is that love comes straight from the heart.
Peter is truly a man of his word, full of integrity and love in his heart.
Peter Looney's class provides a nurturing foundation where an actor can grow and develop their career.
Peter Looney is one of the best acting teachers I've worked with in the 30 years I've been an actor. It's fortunate that he's still teaching. Over the years I've worked with celebrity coaches, and those ranging from the untalented but earnest to geniuses working in obscurity. None of them combined the attributes we look for in a coach as completely, and as well, as Mr. Looney.
Mr. Looney has an uncommon aptitude for teaching film acting. His exercises give his students the capability and confidence to respond truthfully, no matter where the given circumstances of the material may put that student. In his classrooms I've found a safe place to experiment; under his guidance I've learned to bring forth, and trust, what he calls 'the spontaneous genius' within all of us. In addition, his exercises train the actor to work with the relaxed instrument and high level of energy necessary to do the best work again and again, take after take. He is a gift and a credit to the acting profession.
As a professional in the entertainment industry, I found Peter's class not only a lot of fun but an invaluable tool I can use in my business life. I work in visual effects, which does not have a close working relationship with actors. However, I found the techniques taught by Peter have helped me greatly increase my ability to actively listen and communicate clearly to my clients and to my staff. I can not only listen to what people are saying with greater clarity, but now I also see what they are saying with their body language and better understand their intonations. In a business that is all about communication, it has been a true help to my career and has enriched my working relationships with people. I can't thank Peter enough. I have found a way to enjoy my career, and those I work with, on a deeper level. I highly recommend the class to anyone, whether they want to be a professional actor or not.